It's Just Phenomenal
In our family we eat the very same stuff that we sell, so it had better be phenomenal. We don't put gluten, dairy, MSG or artificial flavoring into our restaurant phở or Pho'nomenal noodle bowls, unlike the other guys.
Each Pho'nomenal Bowl flavor features its own distinct broth. Unlike other quick noodles, ramen, etc., I don't re-purpose the same old broth peppered with a couple of add-ins. Chicken means chicken, beef means beef, and our veggie broth is truly vegetarian.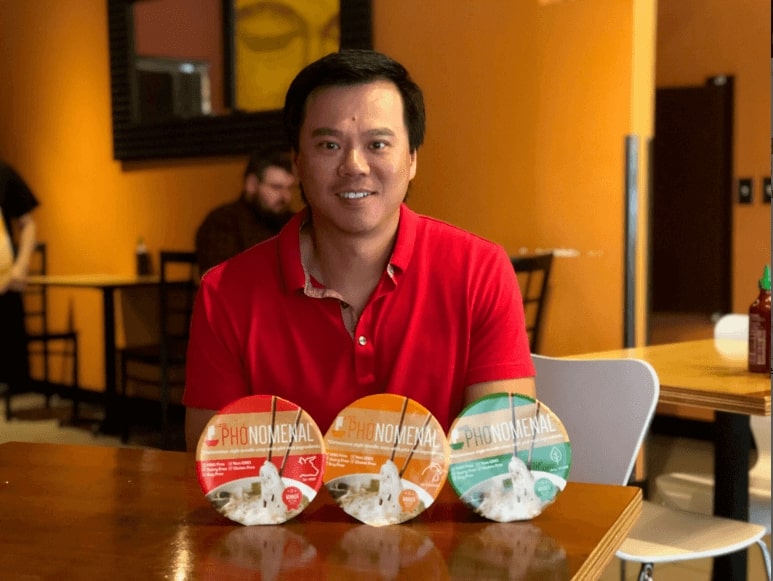 Duke's Story
From day one, I have lived life close to my family, my ideals and my goals. My family came to this country in 1975, fleeing Vietnam when I was an infant to escape the fall of Saigon. Life has been a hard-fought, but luck-filled whirlwind for me ever since. It was probably that first bold move that set the stage for me to always follow my path, especially my "American Dream".
All this from being a penniless political refugee to going on to founding and managing six very popular, award-winning phở restaurants in the Seattle area called 'What the Pho?', which became the launchpad for the Pho'nomenal Bowls.
As the saying goes, behind many a successful man is a powerful woman. In my case I'm lucky enough to have two. There was my tiny and tenacious mom who helped shepherd us out of Vietnam while four months pregnant, toting two toddlers. My wife Trish's fierce determination helped us to forge ahead with opening one restaurant after another–and ultimately our beloved noodle company. I count myself doubly blessed.
Mom inspired my restaurant career by helping me tweak grandma's family pho' broth recipe, and Trish helps me keep the businesses, and our family, on track and having fun. The thing that makes Pho'nomenal really special is that we've maintained what's special about the original recipes, passed down through the generations and perfected in our restaurants. With the tireless help of these two amazing ladies I've finally been able to bring our labor of love home to your kitchen.
We're proud to be able to bring our family traditions half-way around the world to your table, and we hope you'll enjoy our bowls as much as we do.
The Million Bowl Promise
When I told my mom I was starting Pho'nomenal, she called me "khung" – that's Vietnamese for 'crazy'. Years later, when she saw the first bowls from our production line, she shared a story from our past. When our family was in refugee camps, we were given only two instant ramen packets a day to feed our family of four (with a new baby on the way)! Our instant pho bowls reminded her of that ramen, and how she would have loved to have our Pho'nomenal Bowls instead. Mom would only drink the broth, leaving the noodles for the rest of us. Hearing that story, I knew we needed to use our bowls to help feed people in need.
Our family has been truly blessed in our journey from Vietnam, and we want to share our good fortune with those still struggling. By partnering with Food Lifeline and the Feeding America Organization, we're proud to say we have pledged to donate 10,000 bowls for every 1 million bowls we sell. It's our "Million Bowl Promise". Food is a way of life for the Pham crew and we hope our efforts will help those in need.
When you choose Pho'nomenal Bowls, you're also choosing to join us in the fight to end hunger.
– Duke Pham, Founder